Whether you are a beginner, social, Club or high performance bowler, coaching/practing/training helps enhance your enjoyment of this wonderful sport. Consequently, our coaches are trained through the Coach Bowls National training programme, approved by Bowls England. One key role of a coach is to demonstrate how to improve your game through practice. We take anyone from basic principals through to advanced levels, incorporating use of video analysis appropriately.
Through a bowlers life they experience a loss of form from time to time. They have a performance issue or want to learn new elements and techniques, subsequently coaching can help. Therefore, as part of the membership package each member has the opportunity to work with a coach working on a one to one basis or in a group or on a team basis.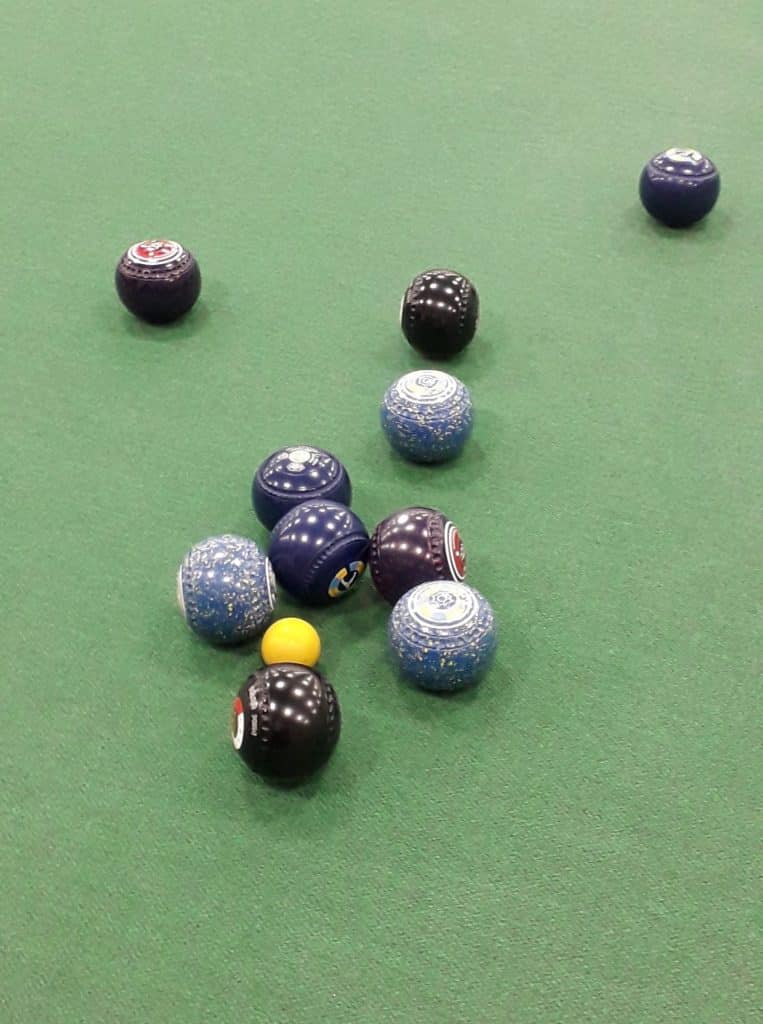 Coaching and purposeful practice
Training is a vital part of any sports persons programme to improve performance, achieve good results and compete at high level. Assisting our members to gain greater consistency and improve their game, the following exercises have been designed. Regular practice is recommended.
The length of practice depends on the individual. 20 to 30 minutes per exercise followed by a 5 minute rest, rehydrate, take sustenance if necessary, then to a change different exercise. To illustrate your improvement whilst training, measure your performance using an accuracy based points system. Aim for higher points score each session.
Exercises to help you improve
Exercise 1 – Weight control practice
Reverse/alternate: Mat at 3 metres from ditch. 4 jacks/pins at 23, 27, 31 metres and last at 1.75 metres short of far ditch. Deliver 4 woods/bowls, nominating each shot, alternating each hand and to different lengths, no shot can be repeated.
Score 1pt within 1mtr of nominated jack/pin, 2pts – 0.6mtr, 3pts – 0.3mtr and bonus 5 pts for toucher and staying within 0.3mtr. Can be used for other exercises.
Exercise 2 – Improving knowledge of line adjustment
Short draw: Mat up – 3 mtr short of minimum mat position and jack 2 mtr from opposite ditch. Bowl 2 w forehand, 2 w backhand. This exercise specifically shows the effect of moving the mat up the rink and change in use of reference/aim points.
Exercise 3 – Line and tactics test
Offset draw: Mat at 2 mtr, jack 2 mtr from ditch, 1 mtr in from left-hand edge of rink. Place second jack 25 mtr from mat, 1.5 mtr to right-hand side of centre line. Bowl 2 w bh, 2 w fh to each jack (8 woods/bowls total). Primarily this is designed to show the effect of bowling off line and secondly highlighting the dangers of bowling the wrong hand. To demonstrate how to achieve line adjustment for bowling fh & bh in relation to the head and proximity of rink limitations.
Exercise 4 – Test of length control and tactic
Beat the shot: Mat at 2 mtr from ditch, jack in opposite ditch 0.5 mtr off centreline (cl) rh.  1 w positioned in ditch 1.0 mtr to left of jack.  2 w on rink, 1 w on cl and 2 mtr short of ditch, 1 w 1 mtr short of ditch and 1.0 mtr off cl rh.  Game scenario – you are 3 shots down. Object to take the shot using 4 w any hand or cut the count down. Scoring 3 points (pts) for shot, 2 pts for 2nd 1pt for 3rd.
Exercise 5 – Improving tactical knowledge
Take the shot: Mat at 4 mtr, jack at 29 mtr, position 4 bowls to box in jack allow approximate 1 mtr gap. Using either hand bowler to take the shot. Take shot and without touching the jack.
Exercise 6 – Practice of line & length adjustment.
Offset jacks: Mat at 2 mtr. Place 4 jacks or pins at 30 degree angle across the rink. Shortest jack/pin 25 mtr from mat and 1 mtr to left of centreline (cl), the next 0.5 mtr left of cl, next 0.5 mtr to right of cl and last 1 mtr from right of cl. Bowl 4 w on forehand either increasing or decreasing on length.
In order to improve their game all top players practice, and receive coaching, to maintain a high level of performance. The exercises above are a selection of those available and we can provide others to address different levels of ability and scenarios.
Together with a coach 'freezing the head' a favourite. The scenario is a tight bowls head with more bowls to be delivered. members of two teams openly debate the next shot to be played, the shot is played, after discussing the outcome they all debate the next shot etc., until all bowls delivered. Consequently, the exercise provides a fascinating variation of the result of differing strategies and outcomes. This is a strategy exercise practiced during our Events morning.
Providing that you don't over tire yourself, finish your session on a high is ideal .
Above all, always practice to improve
There is no glory in practice—but without practice—there is no glory