Green

Alex Comack
Michelle White (DNA)
Chris Gray
Gary Swift
Neil Smith
Steve Smith
Blue
Paul Baker
Mac Otton
Kris Rose
Craig Bowler
Steve Ireland
Steve Angus
Yellow
John Rogers
Arthur Redfearn
Ray Smith
John Greaves
Bob Love
Joe Peplow
Despite all the damage caused by Covid and the lockdowns, these did not deter the enthusiasm of our players. Most arrived the night previously and staying locally. Very few players had been able to practice on indoor rinks prior to the tournament however, this was not obvious by the quality of bowls played from the very first match.
The Championship was run on a round robin basis with each group winner, plus the best runner up, progressing to semi-finals. Based on a maximum of 1 hour play, 'last end' bell 7 minutes prior, or first to 21. The first day comprised two rounds pre-lunch followed by a further 3 rounds. At the end of play there were 3 undefeated bowlers with the rest still in with an excellent chance of achieving those precious top spots.
As per normal practice, the EALABA Annual General Meeting was held at the end of the first days play.
Day 2 started with the news that two players had been forced to withdraw – Kris Rose and Joe Peplow. As per the rules their match results were deleted from the competition.
The previous days competition had obviously ramped up player performances with the standard of play reaching another level leading to a very exciting finish of the round robin.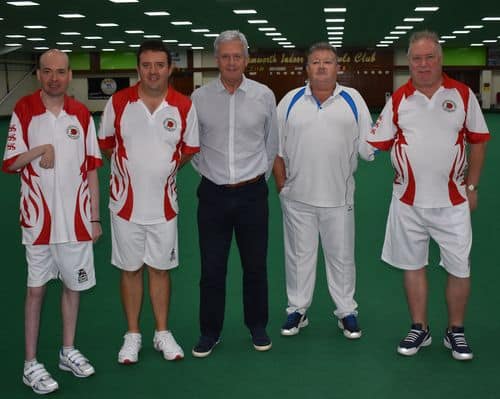 Green group winner – undefeated Chris Gray by 71 – 18
Blue group winner – Steve Angus on shot difference
Yellow group winner – undefeated John Greaves by 44 -26
Gary Swift – best runner up by 1 shot
Semi final battles commenced between John Greaves and Gary Swift, together with Chris Gray tackling Steve Angus.
Gary fought hard but Johns' pressure eventually told defeating Gary 17-2.
The standard of Chris Grays bowling was phenomenal but try as hard as he could, Steve Angus continued to get the better of him running out winner 14-6.
Gary Swift met Chris Gray in the 3rd/4th place play off with victory going to the more youthful Chris Gray 13-3.
What a battle for the final! Steve Angus threw everything he had (apart from his actual bowls) at John Greaves, even moving the mat right up rink and short jacks, they didn't phase John, proving unbeatable on the day and in the Championship.
John Greaves powered his way to be be the EALABA National Singles Champion 2021, by 16 shots to 10.
A big thank you goes to the EALABA committee for their hard work organising the event in the run up to and during our weekend, to the caterers, helpers, pushers and umpires from Tamworth IBC and to Andy Thomson.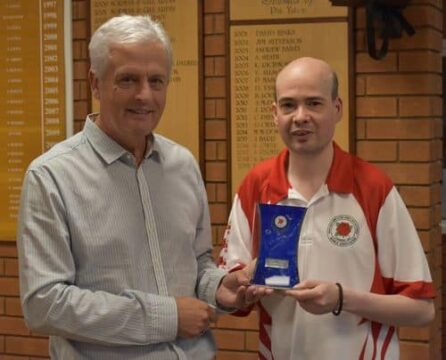 Next Event – National Drawn Pairs, weekend of 16th/17th October 2021, competition start time 9.30 am